It's been so long since I've updated the ol' blog that I don't know where to begin!
Perhaps with a heartfelt, I Hope Everyone is Well?
Work is work. It was quite stressful just before Christmas as a PhD deadline coincided with about three research project deadlines. I was running on fumes for a while, and then the Christmas break happened and it was just marvellous! I had such a relaxing break, even if the last few days was spent on statistical analysis. The enjoyment spilled over into January, where I have finally started to feel like I might be able to pull all this off! There have been a couple of hiccups with the research project (invariably my fault, being the Project Manager and all), but nothing that we haven't been able to bounce back from *fingers crossed*.
In any case, here is the last 2.5 months, more succinctly told via pictures (as often is my wont!)
I
had to finish a literature re
view. The required word count was about 2000 and it ought not to have taken longer than a couple of months to compile and write. But you know me... I spent A YEAR and ended up with close to
16,000
words. Classic Concorde Fallacy. In the end, I culled it down to a more sane 6000-words. I have to write a 20k lit review for the research project. I'm just siiiiiilightly panicked about that! I'm meant to be working 14 hours a week on this project, which on the face of things seems like a lot of time. But considering I have to manage all activities, write reports, conduct/oversee data analysis, administrate, run about eight focus groups and undertake 30 interviews...I would by lying if I said I wasn't anxious about getting it all done. And done
well
. At least the PhD heat is turned right down for now. No thesis deadlines for the foreseeable future and thank Glod for it!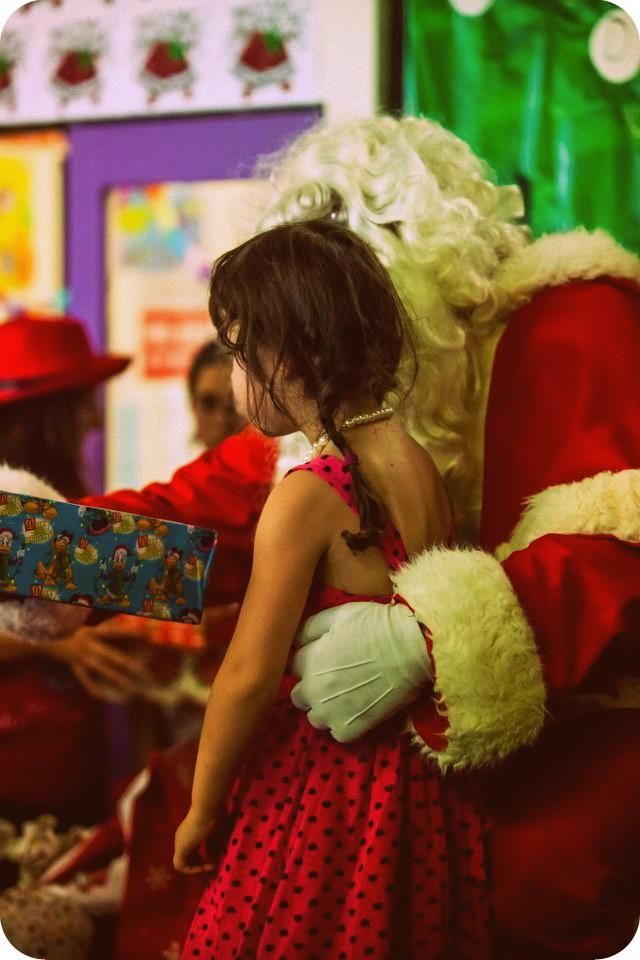 Dubs graduated from preschool. My wee little girl is a big, wee, little girl. This makes complete sense to me. In a couple of weeks, she starts 'big school'. There was also a visit from Santa on her graduation day. How cool is Santa, to have known exactly what she wanted? 'He' (i.e. us) gave her an edible zombie head ;) She had a lot of fun eating its brains.
Christmas was spent at Alec's family's home and it was frenetic, which is about normal, I think! I only had Dubs back with me from 3 p.m. on Christmas day, so Alec and I had a relatively quiet and peaceful start to the day. I made salads this year--a wonton & prawn salad and a teriyaki salmon, rice and black quinoa salad. Oh, and a warm artichoke dip, served with a French stick. Of course, Mr Food was a machine on the day. There were deep fried, school prawns served with a salt and pepper dip, chicken satay, Turkey spring rolls, baked turkey, cooked prawns...
The highlight was undoubtedly Mr Food's eight-hour smoked, beef brisket, which is not traditional Christmas fare, but our Christmases are very untraditional anyway. The brisket was even better two days after, where I had it in sandwiches with plenty of mustard, or for breakfast with scrambled eggs. I could have continued eating it for daaaaays. Aside from her gingerbread treats, Alec's SIL's also made a trio of Christmas trifle (Mojito, strawberry and Christmas flavoured--with Christmas cake, brandy custard, fruit mince and candied ginger). Besides being utterly delicious, the serving size of these tiny trifles was genius--it was just right after a heavy, day-long lunch.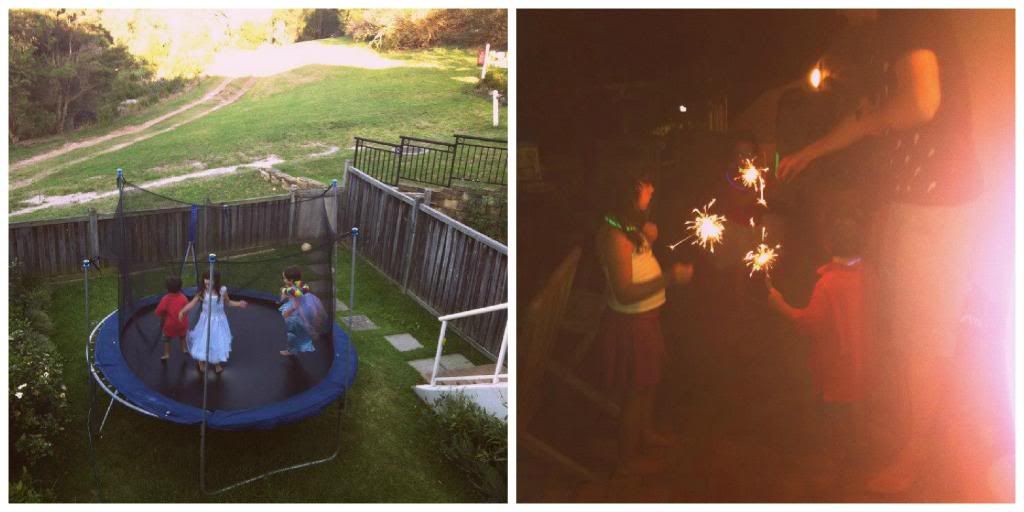 Over the blissful holidays, I caught up with friends--one of them was a girlfriend from high school back in Singapore. She married an Australian guy and they have a pair of adorable boy & girl twins who are close to Dubs' own age. The couple, who are based in Singapore, undertook a clever house-swap with some Australian friends. This translated to an invite to visit them at their 'place' for a kid-friendly NYE. The house was big, beautiful and packed full of toys as the family that usually lives there have three kids of their own. Alec and I spent a gloriously relaxing warm day with the kids in the pool, or on the trampoline, or playing dress-ups. Dubs also spent some time bangin' away on a piano (see below, she wants lessons now)! We had dinner and then busted out the sparklers for the 9 p.m. harbour fireworks. The children lasted all the way to about 11 p.m., just missing out on the always spectacular Sydney Harbour midnight fireworks. They spent the last hour awake watching Hairspray on TV while us adults were making the most of the cool evening breeze out on the deck.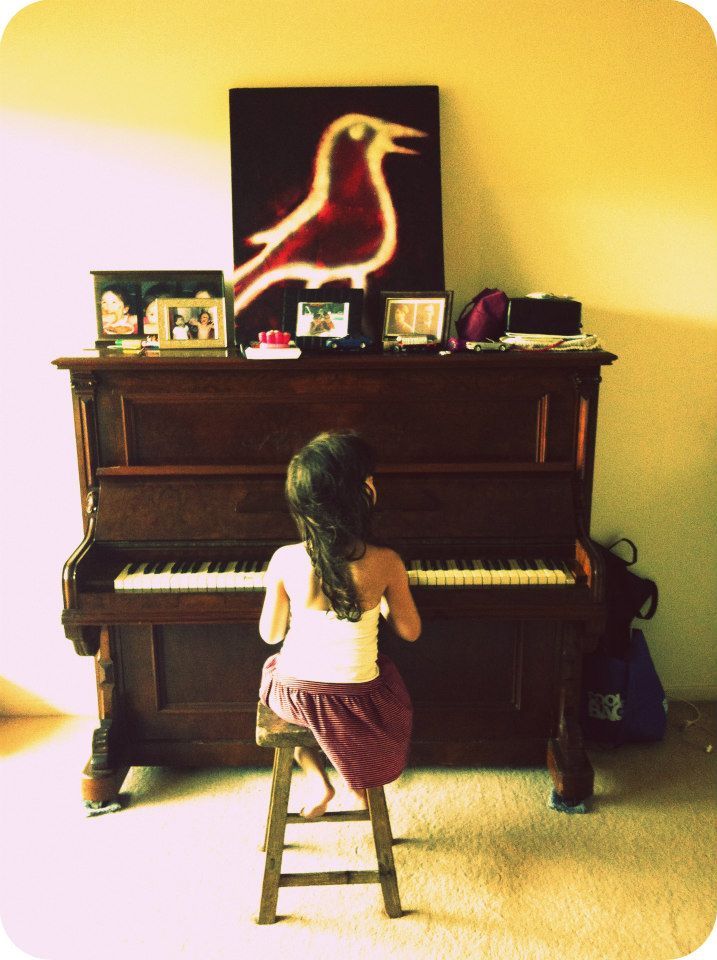 On Boxing Day, it's tradition to head over to our good friend, Lord Willougby's cool, bachelor pad for his annual Boxing Day barbecue. I had Dubs with me this year, which turned out to be fine because there were other children there. Dubs, proving that she is more forward-planning than her mother, brought along a wheelie bag stuffed full of toys and craft. The kids had a blast! The company was fantastic and the food was great. The kids (and adults, alike) went truly bananas, however, when his lordship brought out a chocolate fountain (which was served with bananas...and strawberries). To give you an idea of just how much food there was, the leftovers we took home consisted of a lobster and four Balmain Bugs! My contribution to this event was a farfelle, spinach and asparagus cold salad with prawns.
I took the seafood home and used it to cook dinner that evening. This meal went down in history as the nicest risotto I have ever had the good fortune of making. It was mainly due to the fine stock produced from the discarded shellfish portions. I ended up creating a light risotto with huge chunks of lobster, Balmain Bugs and prawns dispersed throughout. Alec went back for seconds and thirds, the next day.

And those were the main events for December 2012, pretty much! Other bits and pieces include...

Dubs' first PC. Big day :)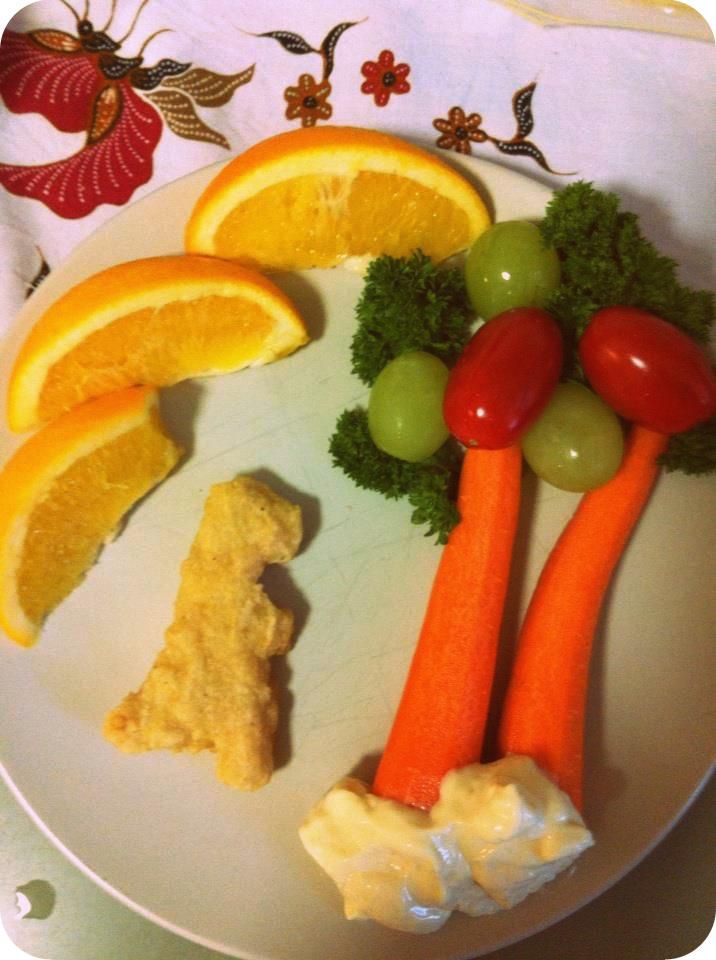 This (yummy) Jurassic dinner landscape.
I guarantee will result in 100% of all the vegies consumed 100% of the time ;)


Watching Star Wars for the first time at Lord Willoughby's, whose home is something of a movie theatre to begin with. Would have been an ace day if she didn't fall asleep half way through A New Hope!
We shaved Rockenroll all over, except for his 'mane', because of the heat (and because of the LOLs)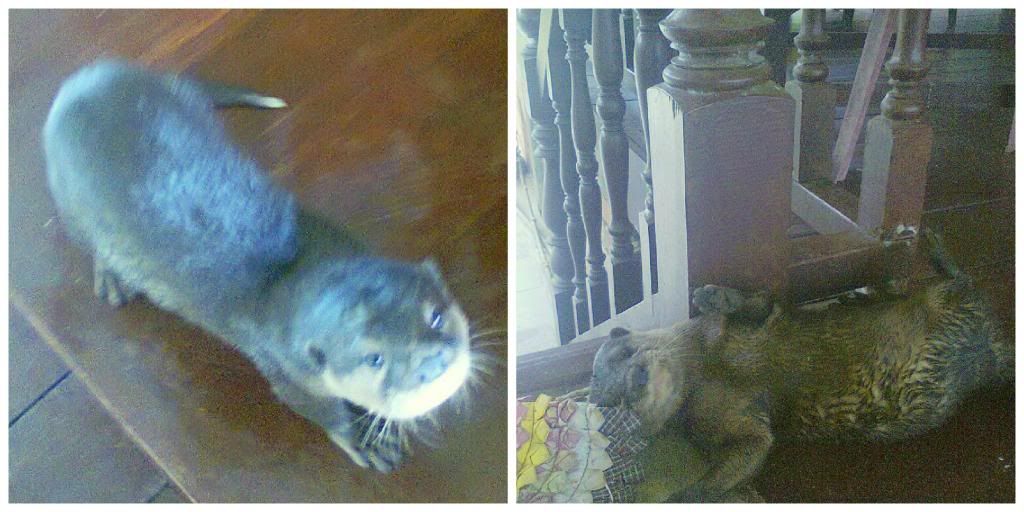 Here be my mother's OTTER, Colin Raju. He enjoys cuddles and playing with shoes. Uhuh.
HOW MUCH DO I WANT TO BE HOME RIGHT NOW????
Sunday night--fun with liquid chalk...until it gets on the walls, on the carpet, on your sheets...


And that's it from me! HOW THE HECK ARE YOU?! :)